Course details
【1 day limited 1 pair】 Popular No. 1 7 great privileges surprise! Bear cake party plan 12 items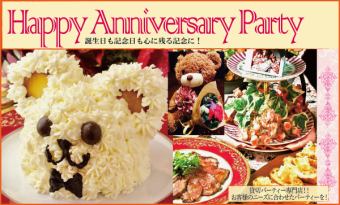 5000 Yen
Meals, 80 all-you-can-drink and event fees included
Reservation deadline

Visit of hope the day before until 12 o'clock
As well as the interior decoration as well as the cuisine ☆ 2 people ~ OK! The all-you-can-drink dishes with 80 non-alcoholic dishes, the dishes are also the contents of the volume! Get the table setting & the number of people's check-up photos! Approximately 23 people ~ Please contact the store for details. For a memorable day a friend, a petit wedding, a boyfriend, a welcome reception party, a nice surprise to those who like Kuma! Enjoy together with the secretary!
Course menu
【Luxurious 7 big surprise】
☆ 1, Place decoration and bear's stuffed toy
☆ 2, table decoration and table set
☆ 3, Bear cake message plate
☆ 4, Photographs of Cheki and photos of the number of people
☆ 5, BGM change, mirror ball, bubble shower
☆ 6, Alice's tea time confectionery
☆ 7, surprise gift ~ message tag can be included.
~ Cooking content ~
◇ Toasting sparkling ~ Romance style ~
◇ Capricious Bucket ~ Bruschetta Wind ~
◇ Stick Bread to Ham Ham ~ Genoa Wind ~
◇ Salad with cheddar cheese ~ Milan style ~
◇ Caesar salad ~ Nice style ~
◇ Seasonal warm vegetables of the farmers who caught ~ Banya style ~
◇ It is indispensable to accompany the talk ... grilled potato
◇ It is indispensable to accompany the talk ... sausage grill
◇ Mixed roast beef and roast pork at the store thoroughly ~ Japanese and Western eclectic ~
◇ Whimsical Crispie Pizza Sakushusuku ~ Meat and vegetables ~
◇ Cultured steaks ~ Grape cows ~
◇ Homemade Surprise Bear Cake (You can put a message !!)
~ Drink content ~
Barrel beer, cocktail, sour, whiskey
80 kinds etc.
There may be changes in ingredients depending on the season ※.
※ This course includes event fee.
Please understand that event contents may be changed depending on the situation of the shop ※.
※ Change of course reservation will be accepted by phone. Feel free to call us.
2018/09/27 update